Blah! I'm sorry I haven't posted in so long; school started and I've been so incredibly busy, I've barely had time to do the little updates I do on my other blog! If I haven't commented on your blog yet, rest assured I have at least visited it! I appreciate every single comment and I do my best to get back to everyone!
Onto the real point of this post.
Role Models.

Role models are incredibly important. They inspire us to be better individuals; they give us hope, and, the best part, learning about them feels as though one is discovering a kindred spirit!
I shall share some of my biggest role models.
Louisa May Alcott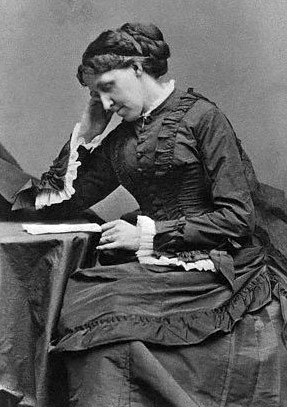 She was such a beautiful woman, and her writing transcends time! Every time I read one of her novels, I feel the inner child in me urging to come out and play in the woods and pretend to be on adventures once more. Her current novel I'm reading,
Little Men
, is so endearing, I wish to start up a school for children immediately! Her writing makes me long for those days.
She was a truly talented writer. For any who want to see her best work (besides
Little Women
), I recommend:
Rose in Full Bloom, Old Fashioned Girl, and Jo's Boys
L.M. Montgomery

It saddens me to know that she suffered from depression and eventually killed herself =(
Her books are in the same league as Miss Alcott's. Anne Shirley is surely a kindred spirit to me and I value her as I do to all book characters I feel I know personally. Her vivid descriptions of Prince Edward Island make me yearn for a visit, and her constant writing gives me the happiness of know there are still many, many novels for me to find from her!
PS Gilbert Blythe is the most perfect male ever.
Jane Austen
Where would my love of the Regency era be without Miss Austen's witty, funny, and endearing novels be? Her life intrigues me and my only gripe with her is that she only has six novels for me to enjoy! I nearly have all of them, except for, I believe,
Persuasion
. Her firm stance in her own individuality and her persistance for happy endings, make her a clear favorite in my book.
Okay, so my top three right now are authors, all in a similar genre. I can't help it =) I'm obviously in a huge dreamer phase at the moment. I've just come up with about a million edits to make my book better, and I'm hoping, hoping, hoping that one day it will be able to be published and that everyone will love the characters as much as I do!
who are your role models, and why?
PS I created a bloglovin' account a long time ago, and only now just figured out my password! So: =)
Follow my blog with bloglovin